Amazon allows sellers to participate in the storefront, selling new and used items as an adjunct to Amazon's main store.
Recently, Michael Eisen found a book on flies and genetics selling for a very high price — over $1 million. The book, "The Making of a Fly: The Genetics of Animal Design," is apparently a classic in the field, but is now out of print.
It turns out that two sellers with new copies — one named "profnath" and other other "bordeebook" — were algorithmically matching each other's prices. Profnath was selling at 99.83% of bordee's price, while bordee was selling at 127% of profnath's price. Here's how the pricing escalated with these dynamics at work: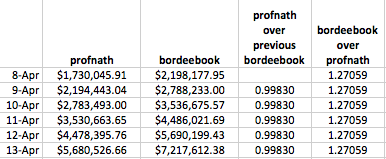 On April 18th, the price spiked at $23,698,655.93, when profnath noticed and brought the price back down to $106.23 (which was promptly marked up by bordee to $134.97).
As of this writing (April 23rd), the price was back up to $237.19.
It's my hope that the author, Peter Lawrence, receives a share of whatever his book ultimately sells for.