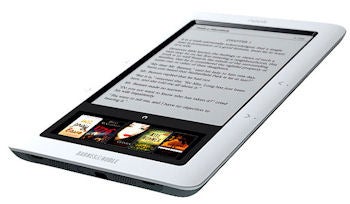 The days of out-retailing your way into a technology market, ala Microsoft and Windows in the 1990s, may be over. Now, when new devices challenge established devices, they'd better have a distinct functional or aesthetic advantage. Microsoft found this out in the music device market with the Zune, which did many things the iPod did, but not as well and not as beautifully. And for all their retail efforts, the device failed to catch fire or put a dent in the iPod behemoth.
Is the Nook the Zune of e-readers?
Barnes & Noble is to be commended for entering the fray with an eye-catching, appealing device. However, the eye-candy aspects of the Nook aren't sufficient to rescue it from some design mistakes and technical issues that were show-stoppers for me.
My problems started with just trying to open the damn thing. The tall, flimsy plastic box was hard enough to open, but the tall, sturdy box underneath was even more challenging. Then they finished it off with a plastic bracket you have to pry off to finally free the device. Consumer Reports should put this thing in its packaging Hall of Shame.
A colleague and I were comparing the packaging unfavorably to old-time CD packaging we used to find in retail stores, the kind that had to be opened by an employee with a special key. This comparison might explain some things, since Barnes & Noble plans to sell Nooks in their retail stores. The packaging is clearly meant to deter shoplifting.
After having survived opening the package – seriously, there were moments of forcing and popping plastic when I thought I might sever my carotid with too much follow-through – I finally held the device itself.
Feels good. Looks good. Very cool form factor, nice materials, seems promising.
My disappointment with the packaging put aside, the next thing I had to do was register the device.
That's too bad.
I've owned two Kindles, and both arrived knowing who I was.
Receiving a device that greets me by name and is integrated with my account out of the box is such a nice touch, and lowers the barrier to adoption so significantly, that for Barnes & Noble to have missed this trick is, to me, a significant omission, one that speaks to their bricks-and-clicks limitations. Amazon just ships, so they can customize each device as it moves to your box (also, Amazon doesn't need to anti-shoplift its packaging). Barnes & Noble is pulling the Nooks off the shelf and mailing them. No magic there.
That said, it was easy enough to register, except for typing in a long email address and password. But the experience pales in comparison, and that's what's going on here — the Nook is going to be compared to the Kindle.
The Nook consists of two screen areas, an upper e-ink area for reading, and a lower LCD touchscreen for invoking functions and typing search queries and browsing the store. This design innovation sounded good and interesting in the pre-sale marketing, but there are problems with this approach, the most glaring being precisely that – glare. The LCD screen is bright, very bright. Trying to read the e-ink area over this stymies the human pupil, and is pretty unpleasant. In addition, the navigation being split between two screen areas that don't match up visually in intensity or color capabilities – so you have to hit icons in the bright, color area to get things in the dim, black-and-white area to respond – is pretty weird.
This seems like poor human-factors design.
I pressed on. Yes, I could find my novels on the Nook. Yes, I could see things and browse.
I was on a train, a perfect use-case for the wireless connectivity.
It worked for a while, then the signal dropped out. I got an error message with coderspeak in it. Then, the Nook stopped working.
I tried to power it off and back on. It flickered. The top icons appeared in the e-ink area, the LCD lit but nothing showed.
It conked out again.
I let it sit for a half-hour. (It was a long train ride.)
Still dead.
Long story short, I'm sending it back.
The problem for Barnes & Noble is that the Nook needed to provide me with an experience that's better than the Kindle. From my hour with the Nook, I can say that it missed the mark in a variety of ways, from packaging to design touches to interface to stability and functionality.
It's harder to read on it because of the glaring LCD screen. The software is apparently not completely baked. And other than it being a competitor in a space that needs competition, it offers no clear benefit.
The other challenge for the Nook is that there are increasingly plausible rumors that Apple's tablet reading device is about to  make an appearance. This will create an upscale bit of competition, perhaps leaving the Nook in the lurch, betwixt and between, a strange hybrid of LCD and e-ink, an e-platypus.
Sorry, Barnes & Noble, the Nook didn't work for me.
I hope you fare better with it than Microsoft did with the Zune.
UPDATE (12/16/09): Yesterday morning, before my meetings, I spent 30 minutes unsuccessfully attempting to contact Barnes & Noble to get a return shipping label for my Nook (they don't let you print one out from your account management screen, and calling customer service for the Nook led to my being shunted here and there by representatives for about 30 minutes of lovely Christmas tunes). Today, I finally found the right department (after one more customer service transfer and another 15 minutes of a lovely seasonal mix), and was informed that I would be charged a 10% "restocking fee" for returning my Nook. That amounts to over $30 for them to snap some plastic back together and put it back on the shelf. I've returned things to Amazon, and the only fees I've ever been charged have been shipping fees when the problem wasn't their fault. To me, this is another indication that it takes more than a device to compete for the modern consumer. Barnes & Noble, you just don't quite get it. And for you people contemplating trying a Nook, remember if you don't like it, the price for your curiosity may be $30.
UPDATE (12/21/09): The customer service adventure continues. After being assured that I'd receive a pre-paid return shipping label by a customer service representative and in an email from some other branch of Barnes & Noble, I had received nothing by this morning. I'd also been told that since I'd opened the Nook, I had to mail it back — I couldn't just return it to a store. Then, this morning, pressing a different agent further and getting a manager involved, I found out that I can return an opened Nook to a Barnes & Noble store to expedite a refund and eliminate shipping hassles. Now, let's see if the store knows that . . .