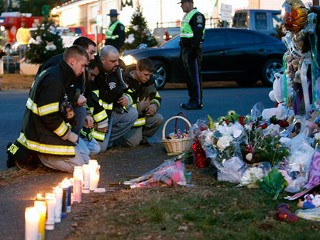 The shootings last month in Newtown, CT, shocked people around the world. Twenty beautiful children were killed in cold blood, and six teachers and administrators trying to save them were also slain. Every parent everywhere cried inside at the atrocity.
The horror was emblematic of social, cultural, and political failures in controlling guns, addressing mental health, and raising children in a safe and healthy environment. It was shameful on many levels. But it was also a failure of scientific research, and of the political support science requires.
Politics in the United States has changed fundamentally over the past 30 years. The National Rifle Association (NRA) and its political allies have methodically shifted American politics from one of gun ownership within a civil society to the inverse — a civil society attempting to survive in a culture of gun ownership. Every state now has a law allowing concealed weapons. It's easier to buy a gun than to buy some cold medicines.
One aspect of the political effort to turn the US into a gun culture was laid bare just before Christmas in an editorial published in JAMA by Arthur Kellerman and Fred Rivara, two public health physicians. They present a shocking and well-described perspective not available elsewhere — a story of how politics, funding, and sociopathic profiteering have combined to thwart public health research, ultimately creating a smoother path for corporate interests that exploit citizens and their lives just as cigarette manufacturers did a few decades ago — minimizing risks and dismissing deaths in order to make their money. By tying their business to freedom, gun manufacturers and their shills have been able to make incredible inroads into our political system. How much so? They've been able to stifle research into gun violence for more than 15 years.
Kellerman and Rivara write that in 1996, pro-gun members of Congress succeeded in eliminating the National Center for Injury Prevention and Control at the Centers for Disease Control and Prevention (CDC). As if defunding this center weren't enough, the following language was added to the appropriations bill:
. . . none of the funds made available for injury prevention and control at the Centers for Disease Control and Prevention may be used to advocate or promote gun control.
So, the CDC lost a center devoted to injury prevention, and lost the ability to shift funds to study gun violence. Later, when other agencies tried to fund high-quality research on injury prevention, which naturally touches on firearms, Congress extended the restrictive language, ultimately applying it to all the Department of Health and Human Services agencies, including the National Institutes of Health (NIH).
The JAMA article goes on to detail other shocking national- and state-level efforts to squelch initiatives to deal with gun violence. Physicians and the military have both been subject to these initiatives — physicians in Florida were prohibited from speaking to patients about guns (this measure is currently being challenged successfully in the courts), and military officers were prohibited from discussing guns and mental health despite the shocking increase in military suicides using firearms. In addition, the recent Affordable Care Act (ACA, otherwise known as Obamacare), includes language pushed by the NRA under a headline, "Protection of Second Amendment Gun Rights." It prohibits physicians from gathering data about their patients' gun ownership.
This sort of extremism for the sake of guns makes no sense. As Kellerman and Rivara point out:
Injury prevention research can have real and lasting effects. Over the last 20 years, the number of Americans dying in motor vehicle crashes has decreased by 31%. Deaths from fires and drowning have been reduced even more, by 38% and 52%, respectively. This progress was achieved without banning automobiles, swimming pools, or matches. Instead, it came from translating research findings into effective interventions.
One of the false dichotomies foisted on the public by gun advocates is that gun ownership and freedom are linked. They are, but inversely, as Firmin DeBrabander wrote in the New York Times last month:
. . . [guns] insert a hierarchy of some kind, but fundamental nonetheless, and thereby undermine equality. But furthermore, guns pose a monumental challenge to freedom, and particular, the liberty that is the hallmark of any democracy worthy of the name – that is, freedom of speech. Guns do communicate, after all, but in a way that is contrary to free speech aspirations: for, guns chasten speech.
Another bit of foolishness extolled by gun advocates is that "an armed society is a polite society." The insidious nature of this quote — how "polite" equates to "servile" — becomes clear when DeBrabander summarizes Michael Foucault:
. . . political and corporate interests aim at nothing less than "individualization," since it is far easier to manipulate a collection of discrete and increasingly independent individuals than a community. Guns undermine just that – community. Their pervasive, open presence would sow apprehension, suspicion, mistrust and fear, all emotions that are corrosive of community and civic cooperation. To that extent, then, guns give license to autocratic government.
A "polite society" is a society under the control of an autocratic regime. A democracy is a free society in which individuals and groups can be impolite without fear of being shot for it. Guns aren't linked to freedom. They are linked to control and fear.
I am publishing this post on New Year's Day 2013. I don't know how many people will read it, but I believe we can't leave the story of Newtown behind in 2012. We must address the severe failures this tragedy exposed in our laws, politics, science, and culture.
Those beautiful, innocent children are gone forever. We remain. We must change this place for the better. To do that, we must restore funding and freedom to researchers in public health and safety, so they can help us regain and maintain a safe and civil society. That is my wish for 2013.