The story of Sci-Hub continues to grind. Portrayed by its founder as an insurgency based on economic necessity, the theft and posting of millions of scholarly articles and entire books, scraping and republication of major academic sites, and filching of an unknown number of academic login credentials represents potential economic harm on a scale we've not seen before in our industry.
It's a bombshell that seems to be exploding a little more each week, as instances of hacking of academic institutions and analyses of the effects on publishers emerge.
While Sci-Hub may be the topic du jour, another story exists as the elephant in the Sci-Hub room — that is, as expectations for free information have perpetuated, we've become accustomed to technology-driven and legally dubious economic damage. It has crept in all around us over the past so many years, and we show little backbone when it comes to resisting these problems.
One source of economic damage many risk-takers in information businesses face is the erosion of copyright laws, whether through active legislation, court findings, or via initiatives like Creative Commons (which may be just a Google business venture) or via our unwise practice of letting authors defend their copyrights.
The damaging erosion of copyright laws is not fanciful or theoretical — it has led to examples in Canada of publishers exiting the educational publishing market, after legislation made educational institutions exempt from paying fees for copyrighted materials. The primary effect has been for Oxford University Press and Emond Publishing to abandon the secondary school textbook market. Sales for Emond alone went from $1 million per year a few years ago to $100,000 now, according to the company's CEO, Paul Emond.
It's not just publishers being affected, of course — writers, artists, technologists, and editors are losing work, as well. In essence, everyone taking a risk in the creative market is being affected. What's surprising is who is standing up and voicing concerns.
Scholarly publishers — who take the risks in our market, doing this on behalf of authors — have not been exactly vocal and unified. But writers in Canada are getting the picture. At a first-ever Canadian Writers' Summit, the panel on copyright was reportedly standing room only:
Standing room only for a copyright panel?! Never seen anything like it. https://t.co/As8Hr3PAkl

— jkdegen (@jkdegen) June 16, 2016
Why the level of concern on the part of writers? Because according to a 2015 Writers' Union survey, 80% of writers in Canada are making less than the poverty level now. They mostly blame this on loosening of copyright laws, and the attendant consequences — lower revenues for publishers, less paying work, and so forth. As one writer puts it concisely, echoing the textbook publishers:
If there's no economy for our work, then the work simply won't be done.
These writers are joining a growing chorus of artists in the music industry who have had it with what they say are technology companies marketing products "built on the backs of free, stolen content." Taylor Swift, Paul McCartney, and Trent Reznor recently took out full-page ads in the Washington Post and other media to make their case: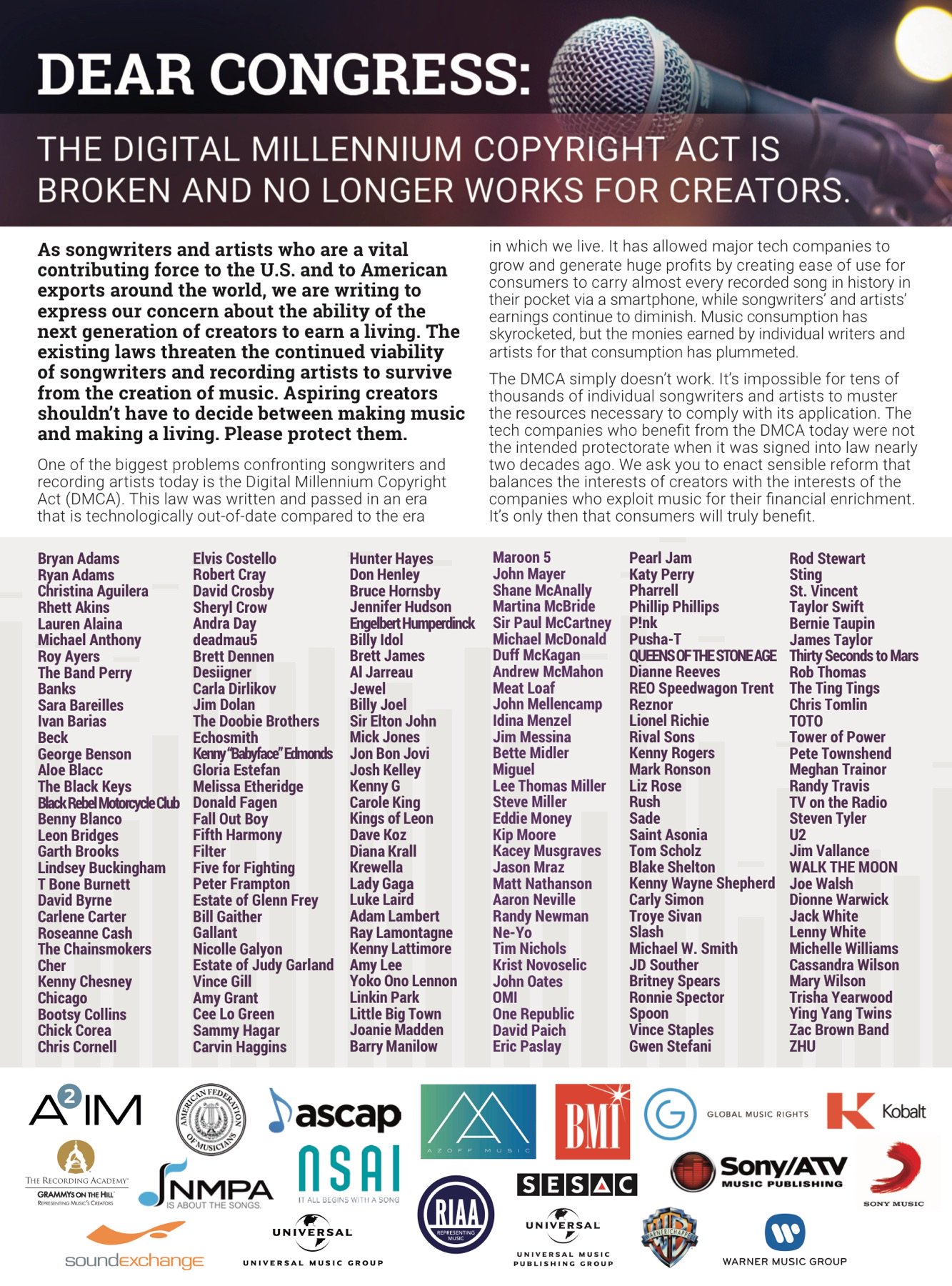 This is not the first time Swift has taken a technology company to task for exploitation and unfair practices, famously shaming Apple last year into paying fair royalties for their streaming service.
The main issue for the musicians is that the "safe harbor" provisions of the Digital Millennium Copyright Act (DMCA) have turned into a loophole, allowing users to upload music to YouTube and other services while putting the onus on artists and their publishers to issue takedown notices. With millions of postings, the situation is unmanageable, and artists are losing. As the ad states:
[. . . the DMCA] has allowed major tech companies to grow and generate huge profits by creating ease of use for consumers to carry almost every recorded song in history in their pocket via a smartphone, while songwriters' and artists' earnings continue to diminish.
Music videos accounted for 38.4% of YouTube content in 2014, when this issue caused Google/YouTube to pledge to work more closely with artists and their representatives after initial complaints. Surely that percentage has changed, but most importantly the relationships seem to have deteriorated as YouTube's influence has grown and artists have not shared in the spoils.
Similarly worrying discussions are going on in Australia, with authors and publishers both warning about the effects of weakening copyright restrictions. The Australian commission looking into adjusting copyright laws states:
Australia's IP (intellectual property) system is out of kilter, favoring rights-holders over users and does not align with how people use IP in the modern era.
This is pure capitulation — essentially, the commission seems to be saying that because people are violating copyright, the laws need to match the practices of copyright violators. Much of "how people use IP in the modern era" is driven by technology companies who have created products that skirt or violate copyright.
Because of such training over the past two decades, the fundamental contributor to the erosion of copyright is the expectation for "free information." This is an expectation the large technology companies have been happy to set and users have been happy to adopt. Technology companies, in their early hubris, used information however they could, skirting the law in many instances. The "open source" movement only added to viewing information as something they could use however they wanted. The code they wrote became their version of the law. However, technology companies may be realizing that their cavalier attitudes are no longer viable. As Urs Gasser, the executive director for Harvard's Berkman Center for Internet & Society said recently:
If you look at the relationship between innovation and how society interacts with it, the emphasis has been on 'code as law.' Post-Snowden, there's a renewed emphasis on 'law as law,' to regulate code.
This maturation is a good sign, but without active help, such new attitudes will be slow to seep into society as a whole, so the expectation for free information remains — ask a scientist or academic how to get a paper for free, and they will happily share a half-dozen strategies. These habits of circumvention erode a number of business factors, some of which are of value to any publisher (subscription or OA), including:
Usage data, to prove value to purchasers, funders, and authors
Site traffic, which can benefit advertising revenues to offset subscription or APC fees
Membership affiliation, which remains significantly based on access to journals and specialist content
Clearly, the erosion of copyright and direct usage means law-abiding and paying customers pay more, as they are now supplementing the bad habits of the scofflaws.
But the effects are even more subtle than that. In fact, the damage from expectations for free content can be invisible — as invisible as that journal never launched, that employee never hired, or that editor never recruited.
I recall a few years ago testing a new publication idea. We held three focus groups with the target audience, a total of about 40 individuals with distribution for age, sex, and training background. They all loved the publication, telling us it was exactly what they needed and exactly the high quality they expected from us. They felt even the rough prototype was superior to its competitors in the market, and they trusted us to execute to that level. The enthusiasm was palpable. When we asked them what they'd pay for it, they unanimously agreed they would not pay for it. They expected to receive it for free — somehow.
I've been party to many discussions, both in organizations I've worked at and within organizations I've been asked to advise, in which business people, editors, or leadership talk themselves out of developing new products and offerings simply because the economic and business environment is unfavorable or too uncertain. These unseen products may have made positive contributions to their fields, to the scientists and academics working in them, and to human knowledge generally. We will never know, and mainly because we have an information business that is not conducive to risk-taking. Risks are unlikely to pay off when everyone wants things for free and lax copyright benefits the mega-corporations.
As Robert Levine wrote in his 2012 book, Free Ride: How Digital Parasites are Destroying the Culture Business, and How the Culture Business Can Fight Back, the result has been:
. . . a race to the bottom, and the inevitable response of media companies has been cuts — first in staff, then in ambition, and finally in quality.
As in book and music publishing, all of this is hardest for the academic publishing mid-list — that is, the modestly sized organization. Mid-list artists and authors (those with modest sales, possibly even "best sellers" but falling far short of a Beyoncé or Adele) have virtually disappeared from music and book publishing, leading to a true consolidation around a few superstar acts and authors. In some creative cases, mid-list authors are laboring under the auspices of "big name" authors — just look at the authors writing as "Tom Clancy" or writing books for James Patterson.
These mid-list authors fought the trend for a while, but now have either abandoned their music or writing careers, or been subsumed by the mega-brands, writing songs for big name singers, ghostwriting for big name authors, and so forth.
Our mid-list organizations are doing little to tilt the table in their favor. In our world, Elsevier is doing battle for us with Sci-Hub and other interlopers. To the outside world, it appears Elsevier is alone in its concern about Sci-Hub, just as it usually appears that the "big publishers" (big commercial or big non-profits) are usually the only ones concerned with copyright law.
I'm not the first here to write about this particular issue, as Angela Cochran noted a similar sentiment in a post this past February:
. . . Elsevier is leading the legal fight against Sci-Hub and LibGen, and thank goodness they are. Publishers who have the means should be joining them. Those that don't should be speaking out. If Elbakyan actually has over 47 million articles, then she probably has your stuff.
What's worrying is that of all the publishers in our ecosystem, Elsevier and the other "bigs" are the least vulnerable to Sci-Hub and loosened copyright laws — they have the largest, most-diversified businesses out there, the easiest access to cash, and little to worry about in the short term from either source of risk. Meanwhile, the "mid-list" publishers like the American Association of [ImportantGroup] or [PrestigiousName] University Press has said little to nothing about piracy or changes in copyright laws. They are hiding behind Elsevier's skirts yet again — which is illogical, as these smaller entities depend on content sales almost exclusively, have all their content on Sci-Hub for free, and risk the largest share of business from lax copyright laws, making them the most at-risk for financial losses and customer disintermediation.
They are not alone in abandoning the field of play just as the game starts.
Libraries and their institutions have every reason to distrust and work against Sci-Hub, which stole credentials through phishing and other schemes, stole papers and resources, and put contracts at risk.
Societies and their leadership have incentives to work against Sci-Hub and for better copyright protections — Sci-Hub threatens important revenues, journals, books and resources the society has spent years or decades developing, and editorial office budgets.
Mid-sized small and mid-sized publishers have every reason to stop Sci-Hub — these publishers' existence depends largely on recalibrating the system so that it works into the future.
Yet, despite all these clear and aligned incentives, libraries and publishers have remained mostly silent about Sci-Hub (and copyright changes), with little organized resistance or complaint.
What might happen if we don't do something? Tax revenues weaken, employment prospects dim, new products go unlaunched, standards fall, and so forth. Science budgets have been cut in order to compensate for economic problems in many countries (US and Europe in particular), despite the proven payback of investments in science. Library budgets continue to struggle as states reduce support to universities. Editorial standards seem to be drifting downward as financial pressures force concessions.
Together and separately, these problems erode trust in the future for people taking financial risks. As Yuval Noah Harari writes in Sapiens (a book I reviewed here recently):
The most important economic resource is trust in the future, and this resource is constantly threatened by thieves and charlatans. Markets themselves offer no protection against fraud, theft, and violence. It is the job of political systems to ensure trust by legislating sanctions against cheats and to establish and support police forces, courts, and jails which will enforce the law. When [leaders] fail to do their jobs and regulate the markets properly, it leads to a loss of trust, dwindling credit, and economic depression.
Trust in the future is the backbone of the modern economic world. The UK is taking a harsh lesson in this after the Brexit vote.
Interlopers like Sci-Hub represents economic death because they remove trust in an economic future. Thieves and charlatans like Sci-Hub and others who seek to siphon off economic value into a vacuum need to be resisted. How? Well, one simple way would be for societies, universities, editors, and leaders to boycott Sci-Hub and its ilk, and urge others to urge scientists and scholars to boycott it. Do you not have a Twitter account? Do you not have a voice? Speaking up is a simple and effective approach that Taylor Swift and others have used successfully — voicing concerns, rallying support, and putting the risk on the offending party rather than shouldering the risk themselves. Another way would be to support legal actions like Elsevier's when it clearly aligns with your own interests. Part of the reason the entire publishing industry is perceived as "Elsevier" by detractors is because the large and varied industry as a whole has remained out of sight.
A positive outcome from the Sci-Hub debacle would be if we — as an industry and as organizations that take on risks on behalf of authors with important information to share — used this moment to find our collective backbone, get our users to understand why they should boycott Sci-Hub, and educate important constituencies about the importance of laws, economics, and the future.
Taylor Swift can do it. You can, too.